Israel Adesanya has beaten Robert Whittaker to retain his title of the middleweight division at UFC 27.
Gatekeepers News reports that Israel Adesanya on Saturday night defeated Robert Whittaker via unanimous decision to maintain his middleweight championship.
The Nigerian-born who won his 11th straight middleweight fight in the UFC and remained undefeated has won all four of his title defenses — three by unanimous decision and one by knockout.
After his victory, Adesanya said "Seven out of 10… Not bad. Good night in the office. Good chess match."
The Saturday fight was a rematch of Adesanya's title win over Whittaker (23-6) by second-round knockout at UFC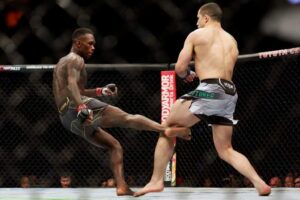 .
The match which was even throughout, saw Whittaker taking the champion down several times, Adesanya was also able to land punches to Whittaker's face and kicks to his ribs.
After the bout, Adesanya stated that he told Whittaker that he respected him.
Adesanya said, "We're just two guys trying to be the best in the world, but tonight, I'm the best in the world."
In reaction to defeat, Whittaker said, "This one was better than the first one. I thought I did enough. I thought I did enough. Breaking it down, I thought I lost the first round. I put myself together. I think I beat him to every punch. I had takedowns. I thought I did enough. It is what it is. That's how work goes in the office."
He continued, "Don't get me wrong, I don't want this popping up in a highlight reel screaming 'Robert thinks he won, blah, blah, blah. I'm not taking anything away from him. He won. Literally, he won. He's got the belt, that's how it works. The judges gave it to him. That's the game. That's the business."
Meanwhile, the next contender for the UFC middleweight title might be Jared Cannonier (15-5), who knocked out Derek Brunson (23-8) in the second round of their fight earlier in the night.