Lille have dethroned PSG to win 2020/2021 French Ligue 1.
Gatekeepers News reports that Lille have won their first French Ligue 1 title in ten years on Sunday, after beating Angers to ensure they dethrone the reigning champions, Paris Saint-Germain.
Despite PSG's 2-0 win against Brest in their final match of the season, Lille secured their 2020/21 Ligue 1 title on Sunday with a point ahead of PSG on the table.
Christophe Galtier's side won 2-1 away to Angers at Stade Raymond Kopa to ensure they finished in the top spot in the French league, making it the second time in nine years that PSG didn't finish at the top.
Gatekeepers News reports that Jonathan David at the 11th minute netted the first goal to give the Galter men an early edge over their opponents.
Although they were left with very few chances afterward, 35-year-old striker Burak Yilmaz doubled their lead in first-half stoppage time through a penalty strike.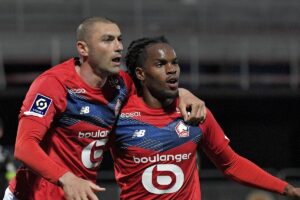 Yilmaz is the first player to score 16 goals in his first French season with Lille since Moussa Sow hit 25 in their title-winning campaign a decade ago.
Gatekeepers News reports that this was Lille's fourth time they were crowned French Champions and their first since 2010/11 when Eden Hazard was named the competition's player of the year.