Kim Kardashian has removed 'West' from her social media profiles.
Gatekeepers News reports that reality TV star, Kim Kardashian, has removed the surname of her estranged husband, Kanye West, from her social media profiles.
On her Instagram and Twitter pages, the business mogul who was once 'Kim Kardashian West' has simply become 'Kim Kardashian'.
This comes shortly after Kim was declared legally single, one year after filing for divorce from rapper, Kanye West.
Judge Steven Cochran of Los Angeles Superior Court had declared Kim single during a hearing on Wednesday, granting her the permission to return to her maiden name.
See screenshots of her social media pages: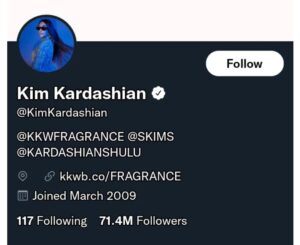 In her petition to be declared single filed back in December, the SKIMS founder requested that the court separate issues of child custody and property from her marital status.
However, in February, her petition was challenged by West who claimed that the declaration might have adverse consequences, especially pertaining to the custody of their four children and marital assets.
Kim's removal of West from her social media names, however, had not stopped her from promoting her KKW fragrance brand, which bore an initial from her estranged husband's surname.
Also, the removal was against her earlier decision to keep Kanye's last name, which she made when the rapper filed to officially change his name to 'Ye'.
The reality star has in August 2021 noted that she will retain the last name of her former husband even after their divorce.