Abia State governor-elect, Alex Otti has referred to the presidential candidate of the Labour Party, Peter Obi as "President in waiting".
Gatekeepers News reports that Obi had taken to Twitter to congratulate Otti for winning the Abia State governorship election.
Obi had tweeted, "A while ago, I spoke with my brother, Dr. Alex Otti @alexottiofr, the Governor-elect of Abia State, and heartily congratulated him on his election. I am gratified that the will and wish freely expressed by the Abia electorates have been respected.
"I pray for God's guidance and protection for the incoming Governor of God's Own State. -PO."
In his response, Otti said, "Thank you very much for your kind words and prayers my President in waiting."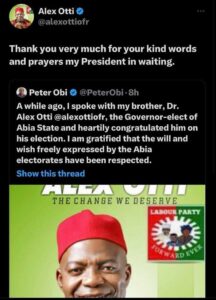 Otti has however deleted the tweet.
Obi recently filed a petition to challenge the victory of Bola Tinubu of the All Progressives Congress (APC) in the February 25 election.
The LP Presidential candidate noted that Tinubu's forfeiture of his funds to the US government over a drug trafficking allegation was an indication that the former Lagos State governor committed infractions that should disqualify him from running for an election in Nigeria.
Court papers from the US had earlier linked Tinubu to a drug trafficking case and his eventual forfeiture of the sum of $460,000 to the US government.